Gezellige avond bowlen in Utrecht
NB: English version can be found below the picture
Op een aangename donderdagavond begin april, kwamen we met zo'n twintig consultants samen in het hart van Utrecht voor een gezellig potje bowlen. Deze centrale locatie maakte het mogelijk voor veel collega's om elkaar weer eens te ontmoeten.
We begonnen de avond met een smakelijke maaltijd, waarbij iedereen geanimeerd met elkaar in gesprek raakte. Nieuwe collega's maakten voor het eerst kennis met de rest van het team en er werden volop ervaringen gedeeld. Vervolgens was het tijd om de bowlingschoenen aan te trekken en de competitie op de baan aan te gaan.
Aditya, die zich vooraf bescheiden opstelde, ontpopte zich tot de ware bowlingkampioen van de avond. Eelko eindigde op een eervolle tweede plaats en we willen zeker Amir een speciale vermelding geven. Ondanks dat het zijn allereerste keer bowlen was, wist hij dankzij een snelle Google-zoektocht naar tips een indrukwekkende derde plaats te behalen.
Hartelijk dank aan iedereen voor deze geslaagde avond. Houd onze eventpagina in de gaten, dan weet je wanneer we binnenkort weer een leuke bijeenkomst kunnen organiseren.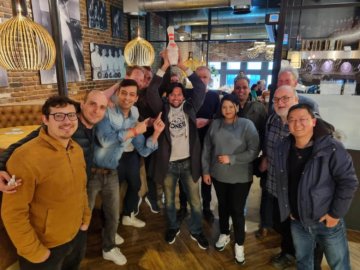 English version:
On a pleasant Thursday evening in early April, about twenty consultants gathered in the heart of Utrecht for a friendly game of bowling. This central location made it possible for many colleagues to meet each other once again.
We started the evening with a tasty meal, during which everyone engaged in animated conversations. New colleagues had the opportunity to meet the rest of the team for the first time, and plenty of experiences were shared. Then, it was time to put on the bowling shoes and engage in some friendly competition on the lanes.
Aditya, who had been modest beforehand, emerged as the true bowling champion of the evening. Eelko finished in an honorable second place, and we definitely want to give Amir a special mention. Despite it being his very first time bowling, he managed to secure an impressive third place, thanks to a quick Google search for tips.
Many thanks to everyone for this successful evening. Keep an eye on our event page, so you know when we'll be organizing another fun gathering.