Kleurrijk en drukbezocht Holi Phagwa op het Eonics HQ
Note: an English version of this article can be found below the pictures.
Nieuwjaar maar dan kleurrijk en net zo lekker en spannend. Je moet er eigenlijk bij geweest zijn om het te voelen en te waarderen. Ik heb het over onze viering op de Bink van het Indiase feest Holi Phagwa, nieuwjaarsfeest, vieren van de lente en de overwinning van het goede over het kwade, en dit allemaal in één feest.
Wat je ziet als je binnenkomt? Een tafel vol met hartige en zoete Indiase snacks met als vreemde eend in de bijt Hollandse appeltaart en speculaas. Maar dat is zeker niet het eerste waar je oog naar getrokken wordt want je zult zelden zo'n groep kleurrijke volwassenen en kinderen, zelfs een baby, bij elkaar gezien hebben. Dat gaat zo in zijn werk: je komt aan en iemand uit de groep doet een greep in de vele kleurrijke poeders op tafel en smeert daarmee je gezicht overvloedig in om je vervolgens te omhelzen en een happy Holi te wensen. De volgende staat dan al klaar en maakt de kleuren talrijker en meer verspreid over je gezicht. De omhelzing zorgt natuurlijk tevens voor een kleurrijke achterkant. Binnen no-time is er geen verschil meer te zien en ben je net zo kleurrijk als de mensen die er al waren.
Het is maar heel even wennen en dan stort ook jij je in het sfeervolle feest en wenst met handen vol kleuren een ander een happy Holi. Indiase muziek op de achtergrond zorgt mede voor de feestelijke stemming en moeiteloos vliegt de twee uur feesttijd voorbij met gezelligheid, het genieten van de heerlijke snacks en, voor ons als Nederlanders, opgaan in een geweldig voor ons onbekend feest.
Heb jij deze Holi viering gemist op woensdag 8 maart, hou dan volgend jaar rond deze tijd onze website in de gaten en kom dit feest dan ook meemaken. Tientallen mensen gingen je voor en hebben er een fantastische herinnering aan. Dit alles is natuurlijk mede te danken aan onze vele Indiase collega's. Happy Holi allemaal!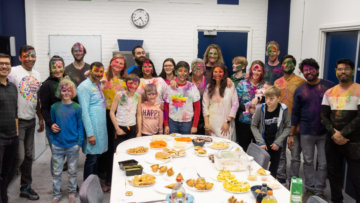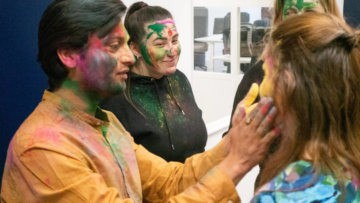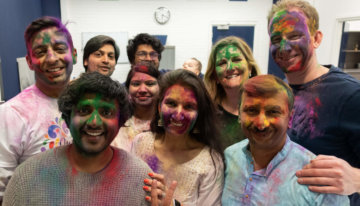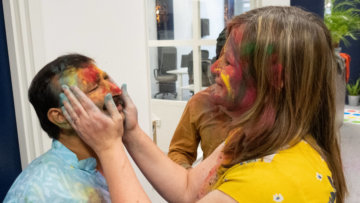 A bit like our New Year celebration, but colorful and very tasty and exciting. You really had to be there to feel and appreciate it. I'm talking about our celebration of the Indian festival Holi Phagwa at the Eonics HQ: a New Year's party, spring celebration and victory of good over evil, all rolled into one festival.
What do you see when you come in? A table full of savory and sweet Indian snacks, with a Dutch apple pie and speculaas as the odd ones out. But that's certainly not the first thing that catches your eye, as you'll rarely see such a colorful group of adults and children, even a baby, together. This is how it works: you arrive and someone from the group takes a handful of the many colorful powders on the table and smears them generously on your face, then hugs you and wishes you a happy Holi. The next person is already waiting and adds more colors and spreads them over your face. Of course, the hug also ensures a colorful back. In no time, there is no difference to be seen, and you are just as colorful as the people who were already there.
It only takes a moment to get used to it, and then you too immerse yourself in the festive atmosphere and wish another person a happy Holi with hands full of colors. Indian music in the background adds to the festive mood, and the two-hour party time effortlessly flies by with friendliness, enjoying the delicious snacks, and, for the Dutch people, blending in with this amazing unfamiliar festival.
If you missed this Holi celebration on Wednesday, March 8th, then keep an eye on our website around this time next year and come experience this festival. Dozens of people have gone before you and have a fantastic memory of it. All of this is, of course, thanks to our many Indian colleagues. Happy Holi, everyone!