Open Hack Night #21: Reactive programming in Spring Webflux
hacknight
Op 19 februari 2020 organiseerde Eonics de 21ste Open Hack Night. Dit keer gaf Eonics consultant João Esperancinha ons een introductie in Reactive programming met Spring Webflux.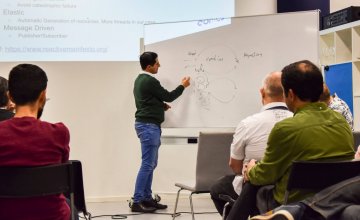 Na de coding challenge van januari gingen weer "back to the roots" met een ouderwetse hack night over een Java & Kotlin gerelateerd onderwerp. Na de leerzame presentatie, die voor veel interactie met de aanwezigen zorgde, genoten we samen van een heerlijke Surinaamse maaltijd. Daarna gingen we zelf aan de slag met de materie. Als er er niet bij kon zijn kun je alsnog in de workshop duiken door gebruik te maken van de instructies en het repository, beiden terug te vinden aan het einde van de presentatie.
Behalve via de Inbox kun je ook op Eventbrite, Meetup en LinkedIn op de hoogte blijven van de hack nights. Je bent altijd welkom!